JOHN THIESSEN, trumpet Described by the New York Times as "the gold standard of Baroque trumpet playing in this country", John Thiessen's performances combine beauty of sound with brilliance and virtuosity for 17th-19th century clarino repertoire. He appears regularly as soloist and principal trumpet with North America's foremost early music ensembles, including American Bach Soloists, Tafelmusik, Philharmonia Baroque Orchestra, Juilliard Baroque, Trinity Baroque Orchestra, the Boston Early Music Festival, and Early Music Vancouver. Internationally, Mr. Thiessen has performed under maestros Sir John Eliot Gardiner, Christopher Hogwood, Nicholas McGegan, Ton Koopman and Andrew Parrott. On the modern trumpet, he recently performed as soloist with the San Francisco Symphony, and Principal Trumpet with the Orchestra of St Lukes. 2013-14 season highlights include Bach's Brandenburg Concerto No 2 with ensembles in NY, San Francisco and North Carolina, Leipzig cantatas with Trinity Baroque, Messiah with Tafelmusik and American Bach Soloists, two European tours, and recordings of Beethoven symphonies. Mr. Thiessen holds degrees in Trumpet Performance from the Eastman School of Music and Musicology from King's College, University of London, and has presented master classes for the International Trumpet Guild, The Juilliard School, the Glenn Gould School, UT Austin, UNT Denton, USC and LSU. He serves on the faculties of Juilliard's Historical Performance department and the American Bach Soloists Academy, and has recorded 70 CDs for Sony Classical Vivarte, Telarc, EMI, BMG, Deutsche Harmonia Mundi, London Decca, Analekta, CBC, Tafelmusik Media and Denon, including major works by Bach, Handel, Purcell, Vivaldi, Biber, Haydn, Mozart, Beethoven and Schubert.
"…the wind playing was greatly enhanced throughout the evening by the presence of John Thiessen, a busy professional who represents the gold standard of Baroque trumpet playing in this country." NY Times
"the presence of John Thiessen, who represents the state of the art on the intractable Baroque trumpet hereabout, was invaluable throughout." NY Times
"The period-instrument orchestra was on a par with the excellent chorus, and the trumpet-playing in particular, with John Thiessen as principal, was something New York early-music fanciers could only have dreamed about a dozen years ago, in exquisitely lyrical passages and highly charged ones." NY Times
"brilliant solo playing on a valveless trumpet" NY Times
"The Trumpet Shall Sound'…supported by John Thiessen's flawless account of the solo trumpet line". NY Times
"Baroque trumpet players are an elite group, like celebrity chefs, dramatic tenors, and ace relief pitchers. In the forefront of this select set is Canadian John Thiessen, who has the panache of Mario Batali, the staying power of Placido Domingo, and the awesome control of Mariano Rivera." Early Music America
"Thiessen [was] particularily impressive in the brilliant outer movements of the Second Brandenburg…Thiessen may well be the most extraordinary performer on the valveless trumpet I've heard in nearly 44 years of covering music. He hit Bach's lip-splitting heights as if he were dawdling somewhere around middle C." Indianapolis Star
"The playing of Thiessen and The Purcell Consort was bright and effervescent–with Thiessen floating out pianissimi as quiet as a leaf turning gold when the occasion required it." Vancouver West Ender
"Thiessen played flawlessly, negotiating difficult passages with a nonchalance that was both intriguing and galling. The man has no business playing an unplayable instrument without at least turning red in the face." Marin Independent Journal
© American Bach Soloists
Christopher Krueger, flute, is well known as a performer on both modern and historical instruments, and has been a soloist and ensemble member with virtually every major early-music organization in the US. He is the principal flutist with the Boston Early Music Festival Orchestra, Mostly Mozart on Original Instruments, the Handel and Haydn Society, the Smithsonian Chamber Orchestra, the Classical Band, Boston Baroque, the New Hampshire Symphony, and Banchetto Musicale. He is also a member of the Bach Ensemble, New Music, the Aulos Ensemble, and the Smithsonian Chamber Players and a founding member of the Naumburg Award-winning Emmanuel Wind Quintet. Krueger has performed with the Drottningholm Theater Orchestra, Aston Magna, the Boston Symphony Orchestra, the Boston Pops, the Orchestra of St. Luke's, Tafelmusik, Cantata Singers, and the Orpheus Chamber Orchestra.
Mr. Krueger has been a soloist on the Great Performers Series and Mostly Mozart Festival at Lincoln Center as well as at Tanglewood, Ravinia, the Berlin Bach Festival, the City of London Festival, the Festival at Perth, and many other venues.

He has served on the faculties of New England Conservatory of Music, Boston Conservatory, and the Longy School of Music. Currently, Mr. Krueger teaches at Oberlin's Baroque Performance Institute and Boston University and is Professor Emeritus at UMass Amherst. Recordings on Deutsche Grammophon, RCA, Nonesuch, Pro Arte, CRL, L'Oiseau-Lyre.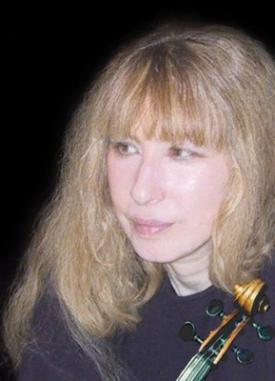 Violinist Anca Nicolau was born in Bucharest, Romania, where she began studying the violin at the age of four. She won her first competition at the age of nine, and at ten she was accepted as a student of George Manoliu, a former pupil of George Enescu. While still in Romania, Ms. Nicolau performed in master classes held by David Oistrach and Yehudi Menuhin, and at the age of fifteen, she was the winner of the Romanian National Youth Competition, and soloist with the Romanian Radio Orchestra, as well as a finalist in the George Enescu Competition. One year later, Ms. Nicolau received a scholarship to study with Ivan Galamian in New York, who was her teacher at the Juilliard School for three years. She later also studied with Raphael Bronstein and Ruggiero Ricci, and she holds a BM degree from the Manhattan School of Music, a Teacher Training Certificate from Louise Behrendt's School for Strings, as well as a Masters in Philosophy from Columbia University. Ms. Nicolau was a member of the fellowship program and prize winner at the Tanglewood Music Festival, has toured and performed at festivals such as Caramoor, Spoleto, Drottningholm, Stockholm, Edinburgh, Sidney, Perth, Krakow, Warsaw, London's Wigmore Hall and Royal Albert Hall, and Salzburg's Mozarteum, as well as at the Brixen Academy for Early Music and, as a member of the Loma Mar Quartet, she performed at the Library of Congress, for Sir Paul McCartney's "2010 Gershwin Prize for Song Writing" ceremony.
Performing on both modern and period instruments, Ms. Nicolau is presently a member of the Mozartean Players, the Loma Mar Quartet, the Amati Piano Trio, the Dragonetti's New Academy, the Drottningholm Theater Ensemble, the Long Island Baroque Ensemble, the Orchestra of St. Luke's, and the American Classical Orchestra. Ms. Nicolau has recorded for EMI, Nonesuch, Decca, Musical Heritage, Foundation Records and Sony Classical labels, and she is presently on the faculties of the Manhattan School of Music's Preparatory Division, the Hoff-Barthelson Music School, as well as the Sulzbach-Rosenberg International Music Festival and School, in Germany. In 2010, Ms. Nicolau was the recipient of the Belz-Parker Award For Excellence in Musical Artistry, and in 2011, she was presented with the Certificate of Excellence by the Forte International Competitions and Festivals.
Laura Lutzke, violin New to the Berkshire Bach Ensemble this year, New York native Laura Lutzke earned her undergraduate and graduate degrees from The Juilliard School and a Master of Music with Distinction from the Guildhall School of Music and Drama in London. She is an avid chamber musician, and was named one of the 'Rising Stars' at the Caramoor International Music Festival, collaborating with artists such as Atar Arad, Pamela Frank and Arnold Steinhardt. She has taught and performed at the Bowdoin International Music Festival alongside musicians such as Frank Huang, Mikhail Kopelman, Kurt Muroki, and Paul Neubauer. She travels extensively and since 2006 has participated in festivals throughout the US, Europe, the UK and Asia, including Open Chamber Music at Prussia Cove in Cornwall, England. She collaborates regularly with diverse artists and ensembles such as Alarm Will Sound, Björk, Le Cercle de l'Harmonie, Gabriel Kahane, Johann Johannsson, The Knights, Max Richter, Orchestra of St. Luke's, Paul McCartney, The National, Stars of the Lid, Roomful of Teeth, Wordless Music Orchestra, and Yann Tiersen, among others. She is currently a member of the critically- acclaimed American Contemporary Music Ensemble (ACME).
JESSICA TROY, viola As violist with the Mark Morris Dance Group Music Ensemble since 1998, she has toured extensively, from Moscow, Idaho to Moscow, Russia, appeared at illustrious festivals around the world, including the Casals, Sydney, Wolf Trap, and Mostly Mozart festivals, and performed with Yo-Yo Ma across the US and Japan. She is the principal violist of the Trinity Baroque Orchestra and Opera Lafayette, and performs with many other period instrument ensembles, including Four Nations, Rebel, Dryden, and Concert Royal; a fun feather in this cap, she appeared with Renée Fleming on the David Letterman Show. She is a member of the Orchestra of St. Luke's, the Brooklyn Philharmonic, and the Westchester Philharmonic, and performs frequently with many other area ensembles, including the New York City Opera, Mostly Mozart Festival Orchestra, and American Composers Orchestra.
Wearing a hat of a different color, she has recorded quartet parts for Lou Reed, Ani DiFranco, and Charming Hostess, and with her cohorts from those projects performed on screen with David Byrne in "This Must Be The Place," starring Sean Penn. She has seized the stage from Toronto to Lima with the East Village Opera Company, a rock group, and performed on their Grammy-nominated CD, "Olde School." She has played on Broadway, recorded cast albums and movie soundtracks, and recorded contemporary chamber music with groups such as Sequitur and North/South Consonance Ensemble.
A participant at many illustrious music festivals, including Prussia Cove, Tanglewood, Spoleto, and Marlboro, she can be heard on Marlboro's 50th anniversary CD in a live performance of György Kurtág's Microludes for string quartet, which she prepared with the composer. She holds degrees from Amherst College, S.U.N.Y. Stony Brook, and the Musikhochschule Lübeck, where she studied with Philipp Naegele, Caroline Levine, and Barbara Westphal. She has been fortunate to count a number of other wonderful musicians amongst her teachers and mentors, including Julius Levine, Samuel Rhodes, Joel Krosnick, and Eugene Lehner, and been lucky enough to have performed with such luminaries as Emanuel Ax, Matt Haimovitz, and Felix Galimir.
Myron Lutzke, cello, is well known to audiences as a cellist on both modern and period instruments. He attended Brandeis University and is a graduate of The Juilliard School where he was a student of Leonard Rose and Harvey Shapiro. Chamber music studies include work with Robert Koff, Eugene Lehner, and Felix Galimir. He is currently a member of St. Luke's Chamber Ensemble, Aulos Ensemble, Mozartean Players, Bach Ensemble, Loma Mar Quartet, The Theater of Early Music, and the Esterhazy Machine, and serves as principal cellist for Orchestra of St. Luke's, American Classical Orchestra, and for 14 years, the Handel and Haydn Society with Christopher Hogwood in Boston. He has appeared as soloist at the Caramoor, Ravinia, and Mostly Mozart festivals, and is a regular participant at the Sweetwater Music festival, Ottawa Chamber Music Festival, Santa Fe Promusica, and the Smithsonian Chamber Players.
Myron's numerous recordings include the complete Mozart and Schubert piano trios with the Mozartean Players and the album Working Classical with the Loma Mar quartet for Paul McCartney. He has recorded for the Sony, DG, Dorian, Atma, Arabesque, EMI, and Oiseau-Lyre labels. He teaches regularly at the Indiana University Early Music Institute and is currently on the faculty of the Mannes School of Music where he teaches period cello and Baroque performance practice. He has also served as director of the Amherst Early Music Baroque Academy.
Bassist Anne Trout has performed, toured and been recorded widely in music of the baroque and classical periods for over two decades. She is regularly engaged by ensembles sized 5 to 50 throughout North America, appearing with a diverse group of leaders and soloists including Richard Egarr, Andrew Parrot, Mark Morris, Scott Metcalfe, Jane Glover, John Hsu, Christopher Hogwood, Rufus Mueller, Dominique LaBelle, Jaap ter Linden, Robert Levin, Kristian Bezuidenhout, Bruno Weil, William Christie and Roger Norrington. Performances include Boston Early Music Festival, Philharmonia Baroque, Tafelmusik, Smithsonian Chamber Orchestra, Clarion Society, Boston Bach Ensemble, Boston Baroque, Opera Lafayette, Tempesta di Mare, Arcadia Players and many others. Recent engagements include Vivaldi Project, Green Mountain Project, Concert Royal, Saint Thomas Boys Choir, Emmanuel Music, American Classical Orchestra, Dryden Ensemble, Spire Chamber Ensemble, Cantata Singers, Newton Baroque, Blue Hills Bach, REBEL, Handel & Haydn Society, Trinity Wall Street.
Anne serves on the faculties of Longy School of Music of Bard College, International Baroque Institute at Longy (IBIL), Early Music for Modern Instruments (EMMI) and Boston College. She recently acquired the 1610 "Delmas" Maggini and is restoring it to its original condition as a 5-string double bass.
Robert Wolinsky, harpsichord, has been a member of the St. Luke's Chamber Ensemble and Orchestra of St. Luke's since 1976, appearing as concerto soloist, chamber musician, and orchestral continuo player. With over 50 recordings to his credit, Wolinsky can be heard on two complete recordings of Bach's Brandenburg concerti and the complete Handel Concerti Grossi op. 6 with Orpheus Chamber Orchestra. He has toured as a soloist in the Brandenburgs (with St. Luke's and Orpheus) in Japan, the U.S., Germany, Italy, Spain, and the Czech Republic.
Wolinsky has performed with many of America's leading ensembles, including the Chamber Music Society of Lincoln Center, the Boston Chamber Music Society, Orpheus Chamber Orchestra, New York Philomusica, Helicon, Music for a While, New York Consort of Viols, Waverly Consort, Guido's Other Hand, Ensemble for Early Music, New York Chamber Ensemble, Mark Morris Orchestra, New Century Chamber Orchestra, the Detroit Symphony, the New Jersey Symphony, the Philadelphia Orchestra, and the Barbad Chamber Orchestra, among others. He has also appeared in many festivals, including Mostly Mozart, Caramoor International Music Festival, Music from Angel Fire, Bravo! Colorado, Aldeburgh (United Kingdom), Brattleboro Bach, Bard Music Festival, Salt Bay Chamberfest, Bridgehampton Chamber Music Festival, Cape May Festival, Ravenna Festival, and Chamber Music Northwest.
He has also performed as a cabaret pianist throughout Germany, the U.S., Italy, and Austria, and he has performed in two Broadway shows and several off-Broadway shows.
The Los Angeles Times praised Wolinsky's performance of the Brandenburg Concerto No. 5: "Wolinsky had both the sheer motor energy and pointed phrasing necessary to negotiate Bach's manic challenge in the cadenza, and throughout he supported the flute and violin with spirit and precision."